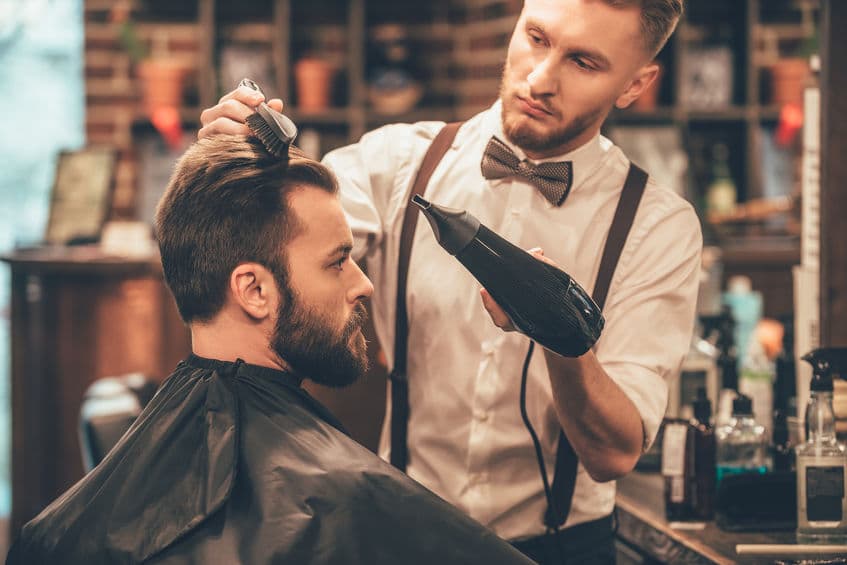 In the past, we have associated men's hairstyles with comfort and ease but not necessarily style. That has changed immensely in the past decade. Now, it's all about men's style! Here are the latest styles that can be customized for men with any hair type and face shape.
Fading In & Out
The classic fade has had multiple makeovers. The different types of fades are dependent on face and head shape as well as the texture of the hair. Simple terms such as Low, Mid, and High Fades are the bases for this cut. These words determine where the fade starts on the head. Low fades start right under or at the ear, mid fades start above the ear, and high fades start around the temples. The lower the start, the least shocking it is as the stylist has more to blend as they go up. Low and mid fades are best for the everyday look. High fades as well as skin fades are noticeable and dramatic. Keep the hair at the crown long and textured or coif it up into a nice pompadour. If you have a round face, a proper fade can give the illusion of an elongated face. The key to these fades looking sharp is getting them trimmed up every couple weeks. If you need a strong hold for this look, we recommend a working & finishing spray.
French Crop
This low maintenance hairstyle is flattering without all the work. Keep the charm with this long, messy fringe on top that you can dramatically sweep out of your eyes. Or keep it short and rugged. Textured cuts on top either fall forward or to the side but the rest of the head is closely faded. This hairstyle is great for thinning hair or receding hairlines as the choppy bangs will naturally keep them hidden. A small amount of pomade, if at all, is recommended to get rid of any frizz and to keep the textured look in your hairdo. It all depends on how long or short you keep the top! If you're lucky enough to have a lot of hair, consider getting a blowout for your fringe. A very versatile hairstyle for all ages.
Bro Flow
This look transfers from the beach to the office. If you sport longer locks that fall below the ears, consider slicking it all back as the idea is to keep the flow of your hair out of your face. It works best for wavy or curly hair because of the natural texture and volume that's created. But if you have straight hair, towel dry after you shower and brush back your damp hair with a boar bristle brush. You can create the bottom winged look of your wavy-haired counterparts by using a light styling cream. You'll look casual and sophisticated at the same time.
Braids
Traditional cornrows never went out of style, but the latest trend is weaving multiple rows and trinkets together to create complex designs. Try a skin fade that ends up in box braids on top. Long French braid pigtails are sexy AND cute if you can keep the frizz down. Daily care is incredibly important to maintain your braids for up to six weeks. It will be tricky but washing your scalp with a small brush at least once a week is necessary. You can co-wash with conditioner to gently wash the braids by squeezing the product in and rinsing out. Moisturize your hair everyday with your favorite leave-in conditioner or oil. And lastly, sleep with a silk pillowcase to keep braids in place. Braids are high maintenance but worth the effort!